---
Reviews:
Reporter World provides a variety of safety equipment, identification products, specialized high-visibility clothing, pertinent news, product reviews, book reviews and useful links specifically for reporters, writers, assignment editors, news correspondents, journalists, ENG crews, photographers, production staff, directors, segment producers, media security personnel, and freelancers: in short, anyone who is part of the news gathering, information reporting, or documentary film industries.

In this section we review various products and services of relevance to reporters, writers, correspondents, ENG teams and production staff. These products include cameras and accessories; computer hardware and software; scanners; printers; books and other products. Smaller, mini-reviews, are also available in other sections of this site including Products, Books and Movies.

We are constantly adding additional reviews to this section. If you have any suggestions for other products you would like us to review, simply e-mail us using the feedback address on our Terms of Service page. Please supply us with as much information as you can about the product (including name, manufacturer, model number) or book (including title, author, ISBN and publisher).
---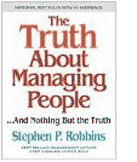 Title: The Truth About Managing People
Author: Stephen P. Robbins
Copyright: © 2003
Publisher: Financial Times Prentice Hall, a division of Pearson Education
ISBN-10: 0-13-183847-4
ISBN-13: 978-0-13-183847-5

Relevance: The Truth About Managing People although not specifically targeted at reporters, correspondents or anyone else in our industry, is a welcome addition to anyone who is or aspires to be a manager in the news or information gathering industries.

Review: To be truthful, The Truth About Managing People reminded us a lot of that really annoying movie a few years ago concerning cats and dogs. Thankfully though, our ignorance was quickly overcome when we delved into Stephen Robbins' handy management book.

A friendly, near pocket book size, Robbins is a well known management consulting author and puts forward 63 "truths" that he has distilled from over 30 years in practice.

Divided into ten parts, annoyingly labeled with roman numerals, Robbins' book dissects key moments in various managing dilemmas and gives advice on each. His interest in the subject is evident and his enthusiasm, contagious. Our reviewers found themselves turning pages rapidly in this easy to read manual that could also be used in an academic or business leadership seminar setting.

Truth be told each point Robbins makes is (or at least should be for managers) self-evident. We were, however, impressed with his concise and to-the-point style as well as his ability to break off a complex chunk of information into smaller, easier to digest bites.

Robbins discusses key topics including hiring, motivation, leadership, communications, teamwork, conflict, job design, performance evaluation, change, and behavior. We were struck by his candor and imagine if more managers took his words to heart, there would be fewer unhappy employees as well as less frustrated managers.

So-called truths such as "not everyone wants to participate in setting their own goals" and "there's no ideal leadership style" gives thoughtful managers much to think about. A common mantra in today's business world is that every employee should have a say in the running of the business. This, as every experienced manager knows, is only one option in a myriad of options available – and not necessarily the most successful or productive choice. This is driven home in the "truths" Not Everyone is Team Material and Happy Workers Aren't Necessarily Productive Workers.

Overall: We enjoyed The Truth About Managing People and found ourselves nodding in agreement with much of the material. Although presented in a somewhat overly glib manner, we thought the book indeed contained several useful truths about managing a workforce and the challenges therein. Although the book does not specifically address our industry, it does deal with many of the issues that general managers, line producers, and let's face it, anyone who needs the cooperation of others to get their own job done, and that includes most of us. Recommended.


End of Review
---
Have your say.
You can give us your feedback by visiting our Terms of Service page.
Buy this book.
If you wish to buy this book right now, please click here.
Read other reviews.
If you wish to return to the main Reviews page, please click here.
---