---
Reviews:
Reporter World provides a variety of safety equipment, identification products, specialized high-visibility clothing, pertinent news, product reviews, book reviews and useful links specifically for reporters, writers, assignment editors, news correspondents, journalists, ENG crews, photographers, production staff, directors, segment producers, media security personnel, and freelancers: in short, anyone who is part of the news gathering, information reporting, or documentary film industries.

In this section we review various products and services of relevance to reporters, writers, correspondents, ENG teams and production staff. These products include cameras and accessories; computer hardware and software; scanners; printers; books and other products. Smaller, mini-reviews, are also available in other sections of this site including Products, Books and Movies.

We are constantly adding additional reviews to this section. If you have any suggestions for other products you would like us to review, simply e-mail us using the feedback address on our Terms of Service page. Please supply us with as much information as you can about the product (including name, manufacturer, model number) or book (including title, author, ISBN and publisher).
---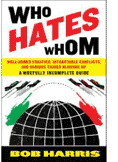 Title: Who Hates Whom – A Woefully Incomplete Guide
Author: Bob Harris
Copyright: © 2007
Publisher: Three Rivers Press, an imprint of Random House
ISBN-13: 978-0-30739436-1

Relevance: A humorous book, Who Hates Whom briefly summarizes nearly three dozen global hot spots and includes maps, photographs and illustrations. The book is ideal for any reporter or correspondent with a sense of humor or those with a naive sense of self-importance and no historical perspective.

Review: What do you get when you cross a comedian and a book outlining major hot spots for chaos and violence around the world? Actually, a rather good book that both teaches and entertains. Who Hates Whom details over 30 trouble spots to which reporters working international beats may be sent in their careers.

From current hot zones such as Iraq, Iran, Israel, Turkey, Afghanistan and Pakistan to those lesser known areas such as the D.R. Congo, the Sudan, Somalia, Liberia, Sierra Leone and Côte d'Ivoire (Ivory Coast), author Bob Harris leads readers into short, humorous and sadly accurate diatribes into what petty arguments and deadly skirmishes are currently plaguing the world.

Although the book was published in 2007 and, therefore, likely written in late 2006, all of Harris' essays are unfortunately up to date. This may be surprising for civilians but reporters and correspondents will fully know that no matter what the daily games or losses over the years or decades, the fights are eerily similar.

By the author's own account, Who Hates Whom is "a woefully incomplete guide" to global chaos but it is both humorous and instructive for any reporter or writer who needs quick background information on many of the world's trouble spots. Although not nearly as detailed as Fielding's Dangerous Places (mainly because Harris has never been to many of these places that he writes about), the book does illustrate just how very screwed up and troubled the world is and how many dangers lurk behind that sexy posting to a far off land that sounds oh so exotic.

We also hear the status of various South and East Asia non-vacation spots such as Sri Lanka, Burma/Myanmar, Kashmir, Nepal, North Korea, Thailand, Laos, Indonesia, East Timor and the Philippines. Surprisingly, Harris' coverage of the Americas is sparse with entries only from Columbia, Mexico, Haiti and a vague region called Central America.

Overall:
We thoroughly enjoyed Who Hates Whom although we would have liked to see more detail and perhaps a bit more of Harris' acerbic yet dead-accurate wit. Although not appropriate as either a security briefing or in fact, a full backgrounder on any of the regions that he covers, Who Hates Whom does present a series of tragically funny yet accurate introductions to many of the world's hot spots. Recommended.

End of Review
---
Have your say.
You can give us your feedback by visiting our Terms of Service page.
Buy this book.
If you wish to buy this book right now, please click here.
Read other reviews.
If you wish to return to the main Reviews page, please click here.
---