---
Reviews:

Reporter World provides a variety of safety equipment, identification products, specialized high-visibility clothing, pertinent news, product reviews, book reviews and useful links specifically for reporters, writers, assignment editors, news correspondents, journalists, ENG crews, photographers, production staff, directors, segment producers, media security personnel, and freelancers: in short, anyone who is part of the news gathering, information reporting, or documentary film industries.
In this section we review various products and services of relevance to reporters, writers, correspondents, ENG teams and production staff. These products include cameras and accessories; computer hardware and software; scanners; printers; books and other products. Smaller, mini-reviews, are also available in other sections of this site including Products, Books and Movies.
We are constantly adding additional reviews to this section. If you have any suggestions for other products you would like us to review, simply e-mail us using the feedback address on our Terms of Service page. Please supply us with as much information as you can about the product (including name, manufacturer, model number) or book (including title, author, ISBN and publisher).
---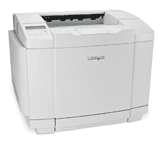 Product:
Lexmark C500 and C500n color laser printer
Manufacturer: Lexmark
Relevance: Lexmark's C500 color laser printer is ideal for writers and others who need color to accent their work. For workgroups, the C500 is also available in a network version as the C500n.
Review: We were suitably impressed with Lexmark's C500 color laser printer, a low-cost, network-capable printer that is a four-color (CMYK) device suitable for busy newsrooms and active freelancers.
Unpacking and installing the C500n is a simple matter and we were up and running within a few minutes. The only tricky part of installing the C500n (as with any color laser printer) is finding a suitable place to locate the printer's mass. Since the printer weighs well over 60 pounds lifting and moving the device safely requires two people. Even then, care must be taken to prevent problems. We've certainly seen heavier printers come through the doors of our lab but all devices of this size must be handled very carefully.
Loading the four color cartridges into the C500n is a simple matter with Lexmark's well-positioned markers indicating which colored cartridge goes in which bay. The front door of the printer provides easy access to all the necessary internals and the fit and finish of the printer is quite impressive, especially considering its low price. The supplied letter-size paper tray might be too small for large jobs but certainly manageable for all of the jobs we tested.
Once operational, we found the C500n was very fast, both in terms of page set-up and actual printing. Interestingly, even when the printer was in its energy save mode, it was able to warm up quickly and print brilliant color. For those who use the printer only once in a while, this is a good thing.
One thing that struck all three reviewers was the printer's ability to print rich vivid color, with no noticeable banding or ghosting on large mono-colored shapes. We were also very impressed with the sharpness of text created. Noise-wise, the printer is certainly not whisper-quiet when printing but none of our testers thought it was particularly loud for an office setting. Those using the printer in a SOHO setting may want to close the door during long jobs.
Unlike the Lexmark C520 printer we tested some time ago, the C500n doesn't balk at complex jobs. This is because printers such as the C520 need to have the entire job loaded into their RAM before the job is printed. In contrast, the C500n is host-based, meaning it relies on the computer with which it is connected to supply the processing power and memory. This means that more complex jobs can be printed, especially if one doesn't mind slowing down the originating computer for a bit while things get arranged.
No job too complex
We found this feature quite helpful in our test prints and were pleasantly surprised that jobs that were too complex for many other printers were output quickly and painlessly on the C500n. In short, we were pretty much unable to stump this printer. Although complex jobs sometimes took a few minutes to print (owing to processing pressures on the computer side not the printer's), all jobs printed.
Although the C500n uses a four-color process to print, graphics mavens drawn to the CMYK model might be disappointed in the C500n. This is because the driver software is only set up to produce RGB output, not CMYK. For writers and other similar information workers who use applications such as MS Word, Excel or PowerPoint, this represents little, if any, problem.
For professionals using Adobe Photoshop, Illustrator, InDesign or other PostScript-based graphics packages, the C500n will not be able to reproduce a precise enough color gamut to fine-tune choices on the printed page. Vivid color yes; accurate color (at least accurate enough for CMYK work), no.
We also had a problem with the printer's registration when we tried to duplex a job by hand. Since the printer has no automatic duplex function – understandable given the low cost of the C500 – we thought it would be easy to remove the printed paper from the output hopper and place it back into the paper tray on the blank side. While we could do this, we were unable to accurately register the pages front to back.
To its credit, although we used a variety of paper thicknesses, the C500n did not jam the once-printed pages. We did find, however, that left-right registration was off slightly and that it was independent of the type and thickness of pages printed. For the vast majority of users, this won't cause a problem. Not only do most people print on just the one side of the page, even those who do want to duplex their job don't need the precise registration to align crop lines on both sides of the page. The one exception is book or magazine compers who need this functionality to ensure bleeds and other registration details are accurate before the job is sent off to the professional offset printer.
As shipped, the C500n is not capable of printing legal-size jobs unless one purchases an optional legal-size paper tray. Besides the paper tray, there is no other way to insert paper into the printer. While this is fine for most jobs (i.e., those letter-sized and smaller), we ran into problems with larger formats. Unlike other printers, the C500n has no separate input hopper for hand-fed print jobs. If you need to print on anything larger than letter-size, you'll need to purchase a larger paper tray.
Considering the fact that few people print on anything larger than legal-size paper these days, we didn't think this was a particularly big deal. We did lament, however, that for the few times one might want to print on anything larger than letter, one needs to buy an extra part.
Overall: We were quite impressed with the C500n. The color laser is ideal for a great many applications and unless true CMYK output is necessary for your jobs, the printer may very well hit a soft spot in your heart (and your wallet). Recommended.
End of Review
---
Have your say.
You can give us your feedback by visiting our Terms of Service page.
Buy this printer.
If you wish to buy this printer right now, please click here.
Read other reviews.
If you wish to return to the main Reviews page, please click here.
---