---
Reviews:

Reporter World provides a variety of safety equipment, identification products, specialized high-visibility clothing, pertinent news, product reviews, book reviews and useful links specifically for reporters, writers, assignment editors, news correspondents, journalists, ENG crews, photographers, production staff, directors, segment producers, media security personnel, and freelancers: in short, anyone who is part of the news gathering, information reporting, or documentary film industries.
In this section we review various products and services of relevance to reporters, writers, correspondents, ENG teams and production staff. These products include cameras and accessories; computer hardware and software; scanners; printers; books and other products. Smaller, mini-reviews, are also available in other sections of this site including Products, Books and Movies.
We are constantly adding additional reviews to this section. If you have any suggestions for other products you would like us to review, simply e-mail us using the feedback address on our Terms of Service page. Please supply us with as much information as you can about the product (including name, manufacturer, model number) or book (including title, author, ISBN and publisher).
---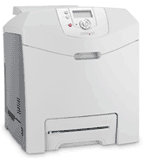 Product:
Lexmark C520 Color Laser printer
Manufacturer: Lexmark
Relevance: The Lexmark C520 laser printer is a four-color CMYK-capable printer suitable for busy newsrooms, writers and other professionals who need true color printing quickly.
Review: We were most impressed by Lexmark's C520 color laser printer. It does just about everything a reporter or correspondent might want and offers excellent resolution, functionality and color fidelity in the process.
Unpacking the C520 is a bit of a bother due to its weight. Like many four-color laser printers on the market, the C520 is a heavy unit that requires at least two people to uncrate the printer and lift it onto a (very) sturdy work surface. Putting on our safety caps, we thought it might also be a good idea to have an extra person acting as a spotter when lifting this kind of weight.
Nicely, the C520's shipping box is custom designed for the printer with bottom access (rather than the potential back-injuring top access of traditional printer boxes). Our lab rats appreciated the industrial strength and design of the box and wished more manufacturers would use this approach.
Set up is quick and easy, with the printer being compatible with just about any Windows or Mac operating system we could throw at it – including Mac OS 9 for those laggards out there who still haven't made the move over to X. Installation was a snap on just about any operating system we tried including several variants of Linux and Citrix MetaFrame.
Lexmark says the C520 also runs on other environments including the IBM iSeries as well as IBM AS/400 Systems with TCP/IP with OS/400 V3R1 or later using OS/400 Host Print Transform. According to Lexmark, the C520 will support virtually any platform supporting TCP/IP as well as UNIX (including Sun Solaris 7, 8, 9, 10; HP-UX 11.00, 11.11; and IBM AIX 5.1, 5.2, 5.3). Okay then.
Meet the family
The C520 is the entry level model of a three-member printer family including the C522 and the C524. Unless you have specific graphic requirements (more about these later), the C520 should be more than adequate for the average information worker.
We tested the printer in a variety of simple and complex tasks and found the C520 could print from a wide variety of office applications, including Microsoft Word, Excel, PowerPoint and other PCL-like generating applications. In general, printing was fast and accurate – and most impressive was the color fidelity of the printer. Put simply, the color from this printer is very impressive. Put more simply, the C520 produces some of the best output we've ever seen on any color printer less than $5000.
The printer uses an ingenious paper tray design that allows the leading edge of the paper tray to protrude out the other side of the printer. We thought this was an innovative way of dealing with the possibility of larger-than-letter paper sizes yet still retain a relatively small desktop footprint. Maximum sheet capacity of the paper tray is 250 pieces of 20 pound bond, certainly enough for most small office applications.
The C520 comes complete with two CD-ROMs: one for drivers and another for the actual (virtual) manual. Although the printer does come with a large printed set-up page, we miss the "good old days" when printer documentation was actually... well...printed.
Perhaps we're old school, but we like studying manuals to see how things work. We do recognize and understand why providing a CD-ROM-based manual is so attractive for manufacturers: the cost savings associated in producing a CD-ROM are quite substantial when compared with a traditional paper publication. The greens in our office loudly poo-pooed the idea of having bulky, printed manuals and thought the CD-ROM based ones where just the thing: fewer trees used and less space on the bookshelf taken up.
Quick set up
Setting up the printer is a snap. Our lab rats took about 15 minutes to unpack the printer, remove all the protective packing tape, install the four color cartridges (cyan, magenta, yellow and black) and the close front door back up again. Like the Lexmark C510, the C520 features a cool LCD information screen located on the control panel of the printer. Here, you can scroll through various options and controls including print density, paper and envelope thickness and toner levels.
There is quite a lot of information presented. We found we could scroll around for a few minutes until we found exactly what we wanted. In a perfect world, we would have liked to see Lexmark print a chart outlining what options are available, and from what menu. A more costly (but snazzier) alternative would be to have a larger screen so users can get a better feel for where they are and how to navigate to where they want to go.
Powering up
Once the drivers were installed and the cables connected, we were ready to power on the printer. People new to the world of color lasers might be surprised to see the amount of power a unit such as this draws from regular office current. Fluorescent lights in the office were unaffected but nearby incandescent lights dimmed momentarily as the printer heated up the toner as part of its normal power-on cycle.
Our reviewers noted this but didn't think this was a big deal considering what we've seen with other color lasers (from both Lexmark and other manufacturers). We mention it here only to reassure prospective buyers that the printer is working normally.
Heating up the toner does make a fair bit of noise, however, and two reviewers thought the fan's power-on noise would be noticeable in quiet offices. Once the toner is heated sufficiently, however (this takes a few minutes), noise levels decrease substantially. We noticed that extended use of the C520 meant the printer had to periodically reheat the toner, and the noise levels (briefly) increased.
Form follows function
We thought the paper tray was well designed and we had only two easily-resolved jams over the course of printing approximately 1000 sheets of paper. The printer works well with paper of various sizes including the popular letter and legal sizes, plus a variety of smaller formats. We encountered no problems using thicker cover stock and much thicker card stock. In both cases, we selected the applicable paper stock from a software dialog box and the printer was happy to output the results.
Self-adhesive labels – a problem with many color lasers due to a number of factors – printed with flying colors from Lexmark's C520. Not only were colors impressively vibrant when printed on our Avery test labels but one reviewer thought the resultant labels had even greater saturation and color density than with standard 20 and 25 pound laser paper we used in our tests. Undoubtedly, these outstanding results were due in large part to the fact that the C520 can print at either 1200 by 1200 or at 2400 by 600 dpi resolution.
Envelopes, on the other hand, were a bit of a problem and we tried (unsuccessfully) to print a variety of #10 business size envelopes. We checked with one Lexmark technical support person who suggested there might be a problem with our particular loaner unit but another Lexmark technical type suggested we should really be using Lexmark's C524 printer for envelopes. While the C520 can print envelopes one at a time, one techie suggested that because the C524 has a separate envelope feeder (that the C520 lacks), it may be more suitable for offices with lots of envelope work.
When looking at the stellar results produced by printing labels from the C520, we didn't really have a huge problem with the fact that we couldn't get the envelope feeder to work. Offices with a demand for direct printing on envelopes, however, should look at the more industrial strength C524 model.
PostScript versus non-PostScript
While standard word processing and spreadsheet documents print quickly and efficiently, complex PostScript based documents take noticeably longer to print despite the fact the printer freely runs PCL 6 Emulation, PostScript 3 Emulation and PDF 1.5. Our lab rats developed a working hypothesis that Lexmark's driver software rips the printer's native code into PostScript and this can generate a large file. Too complex a page and the printer driver can create a file the printer can't easily process. The result is lots of blinking lights but no printing.
Twice when printing a purpose-built InDesign page with some complex imbedded Photoshop graphics, we received an error "38 - Memory Full: Reduce resolution of print job from computer or install additional memory." We would suggest, therefore, adding more RAM to the C520 if you are contemplating using the printer for intensive graphics output. This can be done initially when you purchase the printer or as a field upgrade (although this will necessitate an on-site service call).
Although the C520 does not include a duplexer (letting you print on both sides of the page in a single print command), we were able to manually duplex each of our pages without any problems. This is in contrast with some other laser printers we have tested in the past. With these lesser designs, the fuser seems to "seal" both sides of the page as it prints on the one side, making it difficult to print on the other side later on. With the Lexmark C520, we didn't see this problem when manually duplexing and were quite impressed with the overall output and generally, the printer's good manners.
Overall:
We were very impressed with the Lexmark C520 color laser printer. With excellent color fidelity and very sharp graphics, even our in-house graphics people who count themselves among the "laser skeptical" were convinced of this laser printer's benefits. Reporters and correspondents will also be impressed by the ease of overall use and the many features of the printer. General office workers will appreciate the speed and accuracy of the C520.
Graphic artists, on the other hand, will want to opt for more memory for the printer to handle complex jobs. Heavy duty office workers and compers working on a tight deadline will want to take a look at the C520's more industrial siblings, the C522 and the C524, both of which have additional functionality and a higher duty cycle. Highly recommended.
End of Review
---
Have your say.
If you wish to comment on this review, you can do so from our Terms of Service page.
Read other reviews.
If you wish to return to the main Reviews page, please click here.
---