---
Reviews:

Reporter World provides a variety of safety equipment, identification products, specialized high-visibility clothing, pertinent news, product reviews, book reviews and useful links specifically for reporters, writers, assignment editors, news correspondents, journalists, ENG crews, photographers, production staff, directors, segment producers, media security personnel, and freelancers: in short, anyone who is part of the news gathering, information reporting, or documentary film industries.
In this section we review various products and services of relevance to reporters, writers, correspondents, ENG teams and production staff. These products include cameras and accessories; computer hardware and software; scanners; printers; books and other products. Smaller, mini-reviews, are also available in other sections of this site including Products, Books and Movies.
We are constantly adding additional reviews to this section. If you have any suggestions for other products you would like us to review, simply e-mail us using the feedback address on our Terms of Service page. Please supply us with as much information as you can about the product (including name, manufacturer, model number) or book (including title, author, ISBN and publisher).
---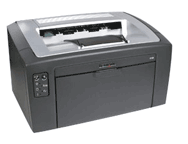 Product:
Lexmark E120n
Manufacturer: Lexmark
Relevance: The Lexmark E120n is a very capable monochrome only (black) laser printer suitable for printing a wide variety of paper sizes, including US legal and the ubiquitous US letter, as well as European and Asian standards A4, A5 and B5.
Review: The Lexmark E120n is a surprisingly capable desktop laser printer suitable for small newsrooms, freelancers and stringers. The E120n is able to print up to 20 pages per minute (all pages identical) at up to 600 by 600 dpi resolution. It features 16 MB of on-board RAM making short work of text-based documents. We were surprised during our testing just how fast the Lexmark E120n was able to print its first page… often in 12 seconds or less.
The printer works with a large variety of operating systems including MS Windows Server 2003, Windows XP, Windows 2000, Windows Me and Windows 98 SE. The printer is also able to work in Linux and Mac OS X. The printer will also work under Mac OS 9 using the operating system's Desktop Printer Utility to create a generic driver.
We found the E120n nicely capable of printing on a wide variety of paper stocks including plain paper, card stock, cover stock, labels, transparencies and envelopes. Although the printer does not feature full Postscript capability, it does feature full PCL6 Emulation making it ideal for most writers and editors.
Because of a lack of Postscript compatibility, the printer is not suitable for busy graphics shops, although in a pinch, the E120n can do an impressive job of rendering basic-level graphics. As usual with non-Postscript laser printers, we were able to clog the E120n with rather complex Postscript layout. Thus, graphics professionals will want to look elsewhere within the Lexmark lineup for fast throughput such as the company's capable C500 color laser printer.
Considering the fact that the E120n is monochrome only, we recognize that graphics professionals are likely not the key market for the printer. Anyone who works with text, however, will be impressed by the speed and quality of this printer.
Workhorse
We were pleasantly surprised at how little maintenance and fuss the Lexmark E120n caused us during or review period. During all our product tests, we typically experience a jam here or there when trying out different paper stocks and sizes on various printers. With the E120n, however, we experienced none of this heartache.
We thought that over the long haul, this augured well for reliability and functionality for the printer – although it is sometimes difficult to extrapolate results gathered over six to eight weeks well into the future.
We were also impressed with the printer's ability to handle a multitude of connectivity options. The Lexmark E120n is able to communicate with both USB 2.0, full speed, as well as using 10/100 Base-T Ethernet. This makes it ideal for stand-alone knowledge workers as well as small groups of collaborative writers. As usual, Lexmark's technical support was up to speed on this product and answered our staged questions quickly and accurately. All in all, we found the E120n to be a strong performer.
Overall
We were pleasantly impressed with the speed and functionality of the Lexmark E120n. Although not primarily designed as a graphics printer, with a bit of patience, artists can coax a graphic here and there from this otherwise magnificent text engine. Highly recommended for its intended audience, especially for its low price, high performance (given its market) and small physical desktop footprint.
End of Review
---
Have your say.
You can give us your feedback by visiting our Terms of Service page.
Buy this printer.
If you wish to buy this printer right now, please click here.
Read other reviews.
If you wish to return to the main Reviews page, please click here.
---