---
Reviews:

Reporter World provides a variety of safety equipment, identification products, specialized high-visibility clothing, pertinent news, product reviews, book reviews and useful links specifically for reporters, writers, assignment editors, news correspondents, journalists, ENG crews, photographers, production staff, directors, segment producers, media security personnel, and freelancers: in short, anyone who is part of the news gathering, information reporting, or documentary film industries.
In this section we review various products and services of relevance to reporters, writers, correspondents, ENG teams and production staff. These products include cameras and accessories; computer hardware and software; scanners; printers; books and other products. Smaller, mini-reviews, are also available in other sections of this site including Products, Books and Movies.
We are constantly adding additional reviews to this section. If you have any suggestions for other products you would like us to review, simply e-mail us using the feedback address on our Terms of Service page. Please supply us with as much information as you can about the product (including name, manufacturer, model number) or book (including title, author, ISBN and publisher).
---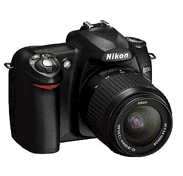 Product:
Nikon D50 digital camera
Manufacturer: Nikon
Relevance: The Nikon D50 digital SLR is a fun, consumer level camera sharing much of its core technology with its more upscale sibling, the Nikon D70s. The D50 is squarely aimed (if you'll pardon the pun) at the entry level, digital SLR market and sports many advanced features typically seen only on much higher end cameras.
Review: We very much enjoyed Nikon's new entry level digital SLR, the D50. Unlike many entry level digital SLRs we've seen recently that sport pre-attached fixed lenses, the D50 features independent, full lens interchangeability and many technological comforts borrowed from Nikon's more high end, professional cameras.
Although it is not suitable for professional photographers, the Nikon D50's near-full lens interchangeability as well as its broad range of consumer-level features, make the camera an ideal digital SLR for beginning photographers who want to leap past the point-and-shoot units and into more serious technology.
With shutter speeds ranging from 30 seconds all the way up to 1/4,000 of a second, high-speed flash sync speed of up to 1/500 second and burst shooting at up to 2.5 frames per second, the D50 is a very serious camera for the vast majority of consumers. This is one of the few cameras on the market today that provides a viable way for new photographers to learn key skills necessary for the profession yet not overload them with features they may never use. Bravo.
Serious lens compatibility
As we have already alluded to, lens compatibility is one of the D50's strong suits. Beginning photogs can use most of Nikon's standard AF lenses with the D50. As their skills increase (and the demands on their camera likewise increase), the same lenses can be used on more powerful cameras within the Nikon product line.
Compatible lenses include the following:
1. DX Nikkor – fully compatible with the D50.
2. Type G or D AF Nikkor – fully compatible with the D50.
3. Micro Nikkor 85 mm F2.8D – compatible with the D50 with the exception of the autofocus function and some exposure modes.
4. Other AF Nikkor lenses – compatible with the D50 with the exception of the 3D Color Matrix Metering II function which is not found on the D50.
5. AI-P Nikkor – compatible with the D50 with the exceptions of the 3D Color Matrix Metering II and autofocus functions.
6. Non-CPU lenses – these can be used in exposure mode "M" (manual) on the D50 but the exposure meter does not function properly. The camera's electronic range finder can be used only if maximum aperture is f/5.6 or faster.
7. IX Nikkor lenses – the D50 is not compatible with IX Nikkor lenses.
Considering the comparatively high cost of camera lenses and the value associated with the possibility of re-using your lenses if you upgrade, the D50 is well worth the investment if you're thinking of dipping your toes in the digital camera stream.
This point is well brought home because the camera is available in both a body-only SKU as well as a kit that comes with a Nikkor 8-55 mm f3.5-5.6 G-ED lens for a slightly higher price.
Like its more powerful sibling, the D70s, the D50 power-up time is very fast, especially for a consumer level camera. Nikon's technical specifications say the camera is ready to shoot just 0.2 seconds after powering up and we found no reason to doubt this claim. While some professionals may find even this quick power-on cycle a trifle slow, we felt it was certainly fast enough for all but the most demanding applications such as combat, sports or wildlife photography.
With the addition of the new Child mode, there are now seven Digital Vari-Program modes in the D50. This means beginning photogs can get better out-of-the-box capture when using these pre-sets of color, contrast and speed. Other modes include: Auto, Portrait, Landscape, Sports, Close-up and Night Portrait.
Large CCD
At the heart of the D50, is Nikon's DX Format CCD image sensor capable of capturing images at 6.1 effective megapixels. We found in our testing this technology let us capture great color and sharp detail, even in challenging shooting conditions such as dusk, dawn or reflective subjects. At its maximum resolution, the camera's CCD can produce images measuring 3008 pixels by 2000 pixels. The D50 is able to shoot in sensitivity ranges from 200 to 1600 (ISO equivalent) in steps of 1 EV. In a perfect world, we would have liked to see more discreet steps between some of the ISO levels. Alas, we have to go to a higher level camera to achieve these.
We also liked Nikon's new 3D Color Matrix Metering II that let us produce accurate exposure controls through a great many shooting situations, a tribute, no doubt, to the camera's improved white balance algorithms. Typical of this consumer positioning of the D50, the camera also has many automatic functions designed to shield much of the nitty gritty science behind professional photography. Nicely, though, as one's skills increase, these automatic features can be switched off and photographers can experiment.
Consequently, it's no surprise to see the D50's digital image processor optimizes the camera's image quality using functions such as auto white balance, auto tone and color controls. As well, the D50's processors work to diminish much of the digital noise that plagues lower end point-and-shoot cameras. As a result, the D50 is able to produce surprisingly usable long exposure shots.
We also liked the D50's comparatively short shutter release time lag and its burst shooting capability that tops out at 2.5 frames per second for a continuous burst of up to 137 pictures. We should note, however, that achieving these numbers means you must use certain auto settings on the D50 and store your images on a high speed memory card.
Lots of power
We also liked Nikon's choice of a high-power rechargeable lithium-ion battery power system. Unlike some entry level SLR cameras that use lower end technology such as nickel cadmium or even standard lead-acid batteries, the inclusion of a higher end lithium-ion battery lets you shoot hundreds of images between charges.
Although (regrettably) a camera's power system is often at the bottom of many consumer's digital camera wish list, any pro can attest to the importance of batteries to capture that all-important shot. Thus, despite the fact many potential customers may not understand the significant advantage of having the more powerful (and more expensive to produce) lithium-ion battery included with the D50, we applaud Nikon's attention to battery life.
Our reviewers thought the D50's two-inch (diagonal) LCD monitor was bright and well positioned just below the camera's viewfinder. The camera's menu was easy to read even under relatively bright outdoor conditions; its user interface easy to understand and navigate.
Both the lens-in and lens-out kits include a number of accessories: Nikon's EN-EL3 rechargeable Li-ion battery, a MH-18a Quick Charger, a video cable, the UC-E4 USB Cable, camera strap, body cap (for use when storing the camera without the lens), a DK-5 eyepiece cap, a DK-20 rubber eyecup, an accessory shoe cover and Nikon's PictureProject software.
Overall:
We were impressed by Nikon's D50 camera. The consumer-level digital SLR sports a few semi-pro features found in its more powerful siblings such as the D70s, D200 and the D2Hs. Best of all, the D50 lets budding photographers buy standard AF-class lenses that can be later used on more powerful cameras as their skills and interests grow. Recommended.
End of Review
---
Have your say.
You can give us your feedback by visiting our Terms of Service page.
Buy this camera.
If you wish to buy this camera right now, please click here.
Accessories:
SanDisk SDCFH-1024 1 GB Ultra II Compact Flash memory card
Nikon 4730 Wireless Remote Control for D50 & D70 Digital SLR Cameras
Nikon EH-5 AC Adapter for the D50, D70, D70s and D100
Nikon EN-EL3 Lithium-Ion Battery Pack for the D50, D70, D70s and D100
Read other reviews.
If you wish to return to the main Reviews page, please click here.
---