---
Reviews:

Reporter World provides a variety of safety equipment, identification products, specialized high-visibility clothing, pertinent news, product reviews, book reviews and useful links specifically for reporters, writers, assignment editors, news correspondents, journalists, ENG crews, photographers, production staff, directors, segment producers, media security personnel, and freelancers: in short, anyone who is part of the news gathering, information reporting, or documentary film industries.
In this section we review various products and services of relevance to reporters, writers, correspondents, ENG teams and production staff. These products include cameras and accessories; computer hardware and software; scanners; printers; books and other products. Smaller, mini-reviews, are also available in other sections of this site including Products, Books and Movies.
We are constantly adding additional reviews to this section. If you have any suggestions for other products you would like us to review, simply e-mail us using the feedback address on our Terms of Service page. Please supply us with as much information as you can about the product (including name, manufacturer, model number) or book (including title, author, ISBN and publisher).
---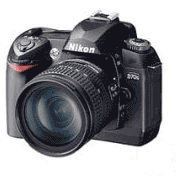 Product:
Nikon D70s digital camera
Manufacturer: Nikon
Relevance: Nikon's D70s digital SLR camera features a 6.1 megapixel CCD letting you capture images in sufficient detail for all consumer-level and some "prosumers" markets. It uses Nikon's long-proven F lens mount design and features impressively long battery life.
Review: We were surprised at how well we liked Nikon's new D70s digital SLR. Like all of Nikon's digital cameras, the D70s uses the much-praised DX Format sensor as well as the company's standard F lens mount design. Not only does this mean you get quality electronics inside your camera but you can also use most of Nikon's traditional (i.e., film) and digital (i.e., DX) lenses with the D70s.
By being able to use legacy lenses, Nikon helps preserve existing investments in equipment as well as smooth the transition for experienced photographers moving, for example, from the analog to digital world.
Pros, however, should make no mistake: the D70s is a consumer-oriented digital SLR. Despite its fine pedigree, we weren't sure the D70s had enough power and a wide enough feature set to make a pro happy. In the end, some of our initial reservations about the camera's suitability for pro work were confirmed, but the D70s also surprised us with its power and versatility -- and yes, excellent value for the money
Installing the bits and pieces including the battery (more about the D70s' impressive battery in a few moments), its memory card, neck strap and, of course, the lens, took less than five minutes -- with a majority of time spent fooling around with the neck strap. To illustrate how simple the D70s is to use, two of our three reviewers didn't even bother to look at the camera manual for a few days into their respective reviews. Overall, the camera's design and functionality are very simple and straightforward, especially for pros used to more complex cameras.
The D70s is also a fair bit lighter than many SLR cameras we've reviewed recently. This makes it very easy to use all day with little of the familiar hand fatigue one gets with a camera with heavier horsepower. The D70s also gets good marks for its excellent "hand-feel" and a satisfactory grip that is both balanced and functional. While it does not rival the great ergonomic feel of Nikon's higher end cameras such as the D2X or the D2Hs, we thought the D70s would make many photographers (especially those new to the SLR world) very happy.
Interestingly, when we installed a long lens onto the camera – we tested both an AF-S DX 18-70mm F3.5-4.5 G IF ED and an AF Zoom-Nikkor ED70-300mm/4-5.6D – we thought it made the D70s a bit "front heavy" with the weight of the lens not counterbalanced by the camera body. This effect, of course, is common with longer lenses such as a 500 or 600mm zoom, but we thought it was somewhat rare to see this effect with a 300mm zoom. No matter, all three reviewers got used the balance almost immediately with no further comments after a few minutes.
Power-up speed is fast. Nikon says it takes less than 0.2 seconds to turn on, and we judged this to be satisfactory for all but the most demanding professional applications. For consumer-level uses, obviously, anything less than half a second is surely fast enough. In our testing, nobody commented the D70s' power-on sequence wasn't fast enough.
Despite its consumer-level market positioning, we were also impressed at other aspects of the camera's speed. At optimum conditions, for example, the D70s is able to shoot an impressive three frames per second at a continuous burst of 144 shots. For this magic to happen you'll need to have your D70s set at JPEG Normal (Large image setting) and use a fast memory card such as a SanDisk SDCFH (Ultra II), SDCFX (Extreme/Extreme III), or a Lexar Media 80X WA CompactFlash card.
Image size and quality
Discussing the topic of memory cards brings us nicely to the subject of image size and image quality. The D70s supports three image sizes based on resolution:
1. Large size: yields an image that is 3008 by 2000 pixels. This is likely the setting used by serious photographers who want to maximize image capture and picture resolution.
2. Medium size: yields an image that is 2240 by 1488 pixels. For our money, not as good as the Large size, but certainly a satisfactory trade-off if you have a small capacity memory card.
3. Finally, the D70s' Small setting saves out an image that is 1504 by 1000 pixels. These images would be suitable for FPOs or Web work.
Besides image size, owners of D70s also have to decide how they want their images stored and any compression applied. Here, owners have five options:
1. NEF (RAW) - Using this mode, the D70s is able to capture a 6.1 megapixel image using 12-bit data from the camera's CCD. The bad news is that the file is saved directly to the memory card in a format called Nikon Electronic Image Format. You need to use Nikon Capture 4 software (available separately), PictureProject (included on accompanying CD-ROM) or the latest version of Adobe Photoshop to read this format. Although the format likely favored by higher end consumers (since it was capable of highest effective resolution with no compression), we thought the extra effort in using this format might dissuade many consumer-level D70s owners from using it.
2. JPEG Fine. This format is the best choice for serious photographers who can't (or don't want to) use the NEF (RAW) format. The JPEG Fine settings preserve the image with a minimum of compression. In this case, Nikon says its JPEG Fine setting compresses the file at a ratio of 1:4. We used this format and the NEF (RAW) format above for much of our testing.
3. JPEG Normal. This format adds even more compression to your image, producing noticeable degradation. Some D70s owners will use this setting as it lets them store more images onto a given memory card. Serious photographers, on the other hand, will be put off by its 1:8 lossy compression.
4. JPEG Basic. This setting uses very high compression (1:16) to scrunch down images to fit on a small capacity memory card. There is noticeable loss of image quality using this setting.
5. NEF + JPEG. Here, Nikon lets you have the best of both worlds. Using this option, the D70s stores two images for every shot taken: one NEF (RAW) as described above and another in JPEG Normal format for quick image manipulation and in-camera review. We found that D70s owners who wish to use this option, however, will want to opt for a higher capacity memory card (at least 512 MB and preferably, 1 GB) as storing lots of NEF (RAW) images as well as an accompanying JPEG Normal for every shot requires lots of storage card capacity. Lots.
Fast, fast, fast
The D70s features very fast shutter hardware, especially considering its consumer audience. D70s shutter speeds range from 30 seconds all the way down to 1/8000 second, meaning that owners have a great deal of control over their shots. What's more, the D70s' built-in auto pop-up flash is able to synchronize at shutter speeds of up to 1/500 second for great fill flash effects.
While we did applaud the inclusion of a pop-up flash unit, we were spoiled with Nikon's very cool Speedlight SB-800 model for much of our indoor testing work. While the built-in flash is adequate for very close work, pros will want to go Speedlight for greater depth, saturation and range of lighting effects. You can read our review on the Speedlight SB-800 by clicking here.
Also extremely important in any purchase decision (and later usefulness) is camera sensitivity. The D70s can be set between ISO 200 and 1600 (in steps of 200, 250, 320, 400, 500, 640, 800, 1000, 1250 and 1600). We thought these steps represented excellent levels for many prosumer photographers as well as many pros. We certainly thought that any consumer-level photographer would be exhilarated to have so many choices.
We also note that the D70s can be set on AUTO ISO, a setting that tries to maximize available light. Again, another tip of the hat to its consumer market but we thought that some prosumer owners might be interested in this feature as well, at least at the beginning of their learning curve using the D70s.
Impressive battery life
Simply put, battery life on the D70s is really quite amazing. Even if the camera was aimed at the pro market, it would be impressive. Nikon says using the D70s' (included) EN-EL3 lithium-ion battery, you can shoot up to 2500 pictures under optimum conditions.
In our testing, we found we could shoot for a few days (!) without the need to charge the D70s' battery. When we did need to top up our power, the battery charger made short work of the EN-EL3's charging cycle. There are two indicators on the charger: either the LED blinks (indicating charging) or it illuminates solidly (indicating it's finished and your battery is fully charged).
Although we would have liked the same detailed charging feedback we get from the higher end equipment that accompanies Nikon's D2X or the D2Hs cameras, the charger that comes with the D70s is solidly built and performed well.
The D70s features a 2" LCD monitor that we liked for playback as well as menu option selection. We thought the menu system a bit tricky to navigate but certainly doable with a bit of patience. We were a bit perturbed that options we thought were set once would reset themselves after we turned the camera off. We could turn the Auto Flash off, for example, but as soon as we would cycle the camera's power off and then on again, the D70s would reset the Auto Flash setting to its factory default. Rats.
For prosumers, the D70s can also accept several remote control accessories extending the usefulness and life of the camera. For example, Nikon's new Remote Cord (MC-DC1) lets you control the D70s for long exposures and close-ups. If you don't want to use a corded solution, you can avail yourself of the Wireless Remote Control (part #ML-L3). Very cool.
Overall: We were impressed by the D70s. While the camera is packed with some cool prosumer features, Nikon is obviously aiming this camera squarely at the high end consumer market, not at professionals. This is not to say the D70s is not worth a good (long) look if you need a spare dSLR, it's just that pros may be happier relying on the D70s as a backup to their everyday D2X or D2Hs. All this said, however, we highly recommend the D70s for its intended market.
End of Review
---
Have your say.
You can give us your feedback by visiting our Terms of Service page.
Buy this camera.
If you wish to buy this camera right now, please click here.
Accessories:
SanDisk SDCFH-1024 1 GB Ultra II Compact Flash memory card
Nikon 4730 Wireless Remote Control for D50 & D70 Digital SLR Cameras
Nikon EH-5 AC Adapter for the D50, D70, D70s and D100
Nikon EN-EL3 Lithium-Ion Battery Pack for the D50, D70, D70s and D100
Read other reviews.
If you wish to return to the main Reviews page, please click here.
---