---
Reviews:
Reporter World provides a variety of safety equipment, identification products, specialized high-visibility clothing, pertinent news, product reviews, book reviews and useful links specifically for reporters, writers, assignment editors, news correspondents, journalists, ENG crews, photographers, production staff, directors, segment producers, media security personnel, and freelancers: in short, anyone who is part of the news gathering, information reporting, or documentary film industries.

In this section we review various products and services of relevance to reporters, writers, correspondents, ENG teams and production staff. These products include cameras and accessories; computer hardware and software; scanners; printers; books and other products. Smaller, mini-reviews, are also available in other sections of this site including Products, Books and Movies.

We are constantly adding additional reviews to this section. If you have any suggestions for other products you would like us to review, simply e-mail us using the feedback address on our Terms of Service page. Please supply us with as much information as you can about the product (including name, manufacturer, model number) or book (including title, author, ISBN and publisher).
---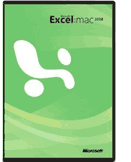 Title: Microsoft Excel for Mac 2008
Developer: Microsoft Corporation
Copyright: © 2007 (released in 2008)


Relevance: Excel for Mac 2008 is the latest edition of the popular spreadsheet program that many reporters, journalists and correspondents use for calculating expenses and some small shops use for time-coding and other back office production tasks.

Review: Unlike Word and Entourage, many reporters use Excel sparingly, if at all, in their daily kit of software tools. Sure, assignment editors may use Excel's gridlines function for creating spiffy tables to print out including slug sheets, assistant editors may use Excel's basic math functions for estimating word counts or freelancer lists, and some production types may use basic Excel functionality for keeping track of time-coded clips and other related production tasks. Many of us, however, don't really delve into Excel's intricacies on a daily basis. Even when we use Excel for our expenses, we typically don't construct the templates. Rather, our organizations have "someone in Accounting" to do this for us. We just fill in the blanks.

Because of this, the new version of Excel for Mac 2008 brings some nice incidental functionality and certainly some added stability but nothing that would make the average reporter or correspondent rush out and buy a new copy. After all, it's Excel, not Word, right?

Now, many of Excel's power users have commented (adversely) about the new version's lack of Visual Basic for Applications ("VBA") support, no Solver function as well as several of Excel's new Data Analysis limitations. We too, were amiss to find the new upgrade lacking several of the features that worked well in the old Excel for Mac 2004. Microsoft's Mac Business Unit ("MBU") has steadfastly maintained that Excel's installed base on the Mac uses these missing functions sparingly at best and has hinted it may return them at a later date, perhaps through a service pack.

While we didn't like the fact that some features are missing from the new version, we don't think that these will affect most reporters and others in our business. For users depending on these features, however, the software can't be recommended until the company adds them back into the code. Of course, you can always use Excel 2007 operating in a Windows partition on your Mac to get this done but this strikes us as wrong for many reasons.

To be fair, the lack of Excel's VBA support is partly due to the fact that Apple changed processor chips a few years back. Remember when Motorola's chips were dropped in favor of Intel's? Well, that decision is coming back to roost with the lack of VBA support in this version of Excel. Programmers who know the inner workings of the Mac and Intel chips and compiler coding aren't exactly numerous.

When Apple changed its hardware over to Intel a few years back many analysts thought a decision was made at Microsoft's Mac Business Unit to backburner VBA so as to concentrate on what the company thought was important in the update. We'll see if Mac users care enough to get their opinions heard at Microsoft and we'll see if Microsoft wants to invest the time and money (well, mostly the money) in getting VBA back into Excel. For the vast number of reporters and other journos, however, the missing VBA issue is a tempest in a teapot. It simply doesn't matter.

Good things: On the plus side, we do note that Excel for Mac 2008 has many additional templates available in its sample galleries to help people who have to communicate with charts, tables and graphs but don't do it often enough to spend time learning all their ins and outs. And, Microsoft says that Excel can generate much larger worksheets in 2008 (we know that getting Excel to have larger worksheets wasn't a make-or-break factor for anybody, but the company did it anyway).

We found that much of the work spent on this update has gone into making Excel 2008 easier to use and more stable and we applaud this strategy. We note, for example, we no longer get spurious error messages when we quit Excel as we used to do with the previous version working under OS X 10.5 or 10.4. Although these messages did not affect the saved worksheet, they were nevertheless unnerving to see on a regular basis. In addition, new users would frequently wonder if they had "done something wrong".

Like the other modules in the Microsoft Office for Mac 2008 suite of products, the Mac business unit has taken obvious care to make this application more "Mac-like". This means that text looks sharper, menus are somewhat more organized and color palettes are more standardized across different modules. And this we liked.

We also enjoyed the increased integration between the other modules within Office and Excel itself. Although not 100 percent perfect, Microsoft is making strides towards the goal of interoperability and the exchange of data between each of the modules. You can now, for example, move numbers from Word into Excel more easily where they can be enhanced and quickly placed into a snazzy chart which, in turn, can be easily exported back into Word, kept in another worksheet within Excel – we continue to love Excel's tabbed internal worksheet function – or even placed into PowerPoint. And this is very good as well.

Although still a bit cranky at times, we generally thought that Microsoft had spent a lot of time working on ways of exchanging data between each office module and, again, this can only help users.

Overall: Writers, editors and correspondents may not use Excel in the same way financial MBAs do and this is perhaps a good thing considering a few serious omissions in the new Excel for Mac 2008. This said, Excel for Mac 2008 sports many of the new features of direct benefit to writers and we certainly enjoyed the moves made to help the product's stability, ease of use, and overall functionality. Recommended.

End of Review
---
Have your say.
You can give us your feedback by visiting our Terms of Service page.
Buy this software.
If you wish to buy this software right now, please click here.
You can also read reviews of other Office for Mac modules:
Read other reviews.
If you wish to return to the main Reviews page, please click here.
---