---
Reviews:
Reporter World provides a variety of safety equipment, identification products, specialized high-visibility clothing, pertinent news, product reviews, book reviews and useful links specifically for reporters, writers, assignment editors, news correspondents, journalists, ENG crews, photographers, production staff, directors, segment producers, media security personnel, and freelancers: in short, anyone who is part of the news gathering, information reporting, or documentary film industries.

In this section we review various products and services of relevance to reporters, writers, correspondents, ENG teams and production staff. These products include cameras and accessories; computer hardware and software; scanners; printers; books and other products. Smaller, mini-reviews, are also available in other sections of this site including Products, Books and Movies.

We are constantly adding additional reviews to this section. If you have any suggestions for other products you would like us to review, simply e-mail us using the feedback address on our Terms of Service page. Please supply us with as much information as you can about the product (including name, manufacturer, model number) or book (including title, author, ISBN and publisher).
---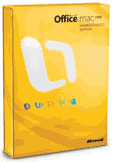 Title: Microsoft Office for Mac 2008 (Home and Student Edition)
Developer: Microsoft Corporation
Copyright: © 2007 (released in 2008)


Relevance: Microsoft Office 2008 is the latest rendition of the venerable Mac Office group of products, namely Word, Excel, PowerPoint and, added since its migration over to OS X, Entourage. Unlike the revolutionary (and, to some, controversial) changes in the Vista version of Office 2007, the Mac version is an evolutionary product full of hundreds of small changes, many of them concealed behind the scenes.

Review: It's been four long years since Microsoft brought out a new version of Office. Has the wait been worth it? We think it depends on who you are. Clearly, the key difference between Office 2004 and its 2008 counterpart is that the new edition is Intel native. For four long years MacHeads have had to use Office 2004, a PowerPC/Universal version that increasingly showed its age. With the launch of OS X 10.5.x (aka "Leopard") in late 2007, Office 2004 became progressively more dated and often incompatible with Apple's current operating system. Excel 2004, for example, would constantly display an error message when quitting the application. Thankfully, it wouldn't cause other problems but for new users, the error could be quite disconcerting indeed.

When Microsoft postponed the expected debut of Office 2007 for Mac last July, the Mac world issued a collective gasp. Could it mean that the on-again, off-again Apple/Microsoft spats were on again? Well, thankfully the answer was no. Microsoft is still writing good code for Mac products and Office 2008 is the result. The fact that Office for Mac had to be rewritten, much of it from scratch, to be Intel compatible bodes well for the relationship and Microsoft's reinvestment in the platform will produce good results for both MacHeads and Microsoft's bottom line.

There are three different editions of Office 2008. At the entry level, Office 2008 for Mac Home and Student Edition has the familiar Word, Excel, PowerPoint and Entourage (the renamed and upgraded Outlook Express has not been available since the last version of Office for OS 9 premiered). This is the version we tested.

The second level up (and priced at more than double that of the entry level version) is called simply Office 2008 for Mac. In addition to the four familiar Word, Excel, PowerPoint and Entourage modules, Office for Mac 2008 also features Microsoft Server Exchange Support and Automator Actions for Workflows in Microsoft Office. These last two modules are clearly aimed at office environments where back office connectivity is necessary for larger workgroups.

Microsoft's third offering is Office 2008 for Mac Special Media Edition, available at roughly three times the price of the base software. Besides the aforementioned Word, Excel, PowerPoint and Entourage, and Microsoft Server Exchange Support and Automator Actions for Workflows in Microsoft Office, this version of Office includes a stand-alone module called Expression Media 2 (this is also available as a separate SKU for those who opt for the base Office version).

Future directions: MS Expression Media 2 deserves special note because it signals the company is serious about diversifying into areas not typically thought of as belonging to Microsoft. Expression Media 2 lets you organize your documents, images, fonts, and more, into what Microsoft calls "a searchable catalogue of reusable digital assets". Paired with Office for Mac 2008, it means some digital media people may not have to use artistic products from other developers, notably Adobe or Apple to create, modify or catalogue photographs and artwork.

Of course, few digital professionals who use products such as Lightroom or Aperture will leap at a Microsoft media management tool, especially those who use Photoshop, Illustrator and InDesign every day. This said, it will be interesting to see how things unfold in the future for Expression Media. Microsoft has a way of introducing new products and services and tweaking them until they gain market traction. At the very least, Expression Media might morph into a consumer-level tool to help home users deal with the variety of digital pictures, clips and sound files that are migrating onto home computers these days.

Office 2008 for Mac is rather picky when it comes to its operating environment, requiring at least OS X v10.4.9 or above. Like a few other Mac packages these days, Office also requires a DVD player because the software comes on a DVD-ROM. Of course, if your IT department has purchased an Office site license, you'll likely be able to install the products across the internal network but at some point a local DVD drive is required. This stipulation immediately disqualifies older Macs that lack an internal DVD drive. This means if you have a CD-ROM based Mac (and we note that a lot of people do), you're likely out of luck if you want to run the new Office for Mac.

Another limiting factor is the processor, although in this case, it is not a severe one. Office for Mac requires an Intel PowerPC G5 or PowerPC G4 (500 MHz or faster) processor-based Mac. This automatically excludes long-in-the-tooth but otherwise current G3 iBooks and other Macs based around this older platform. Yes, it would be nice if everyone could update their hardware every year but some people are more curtailed by budgets than others. Considering what we've seen in the various Office for Mac modules, we weren't sure why this hardware requirement was enforced. In fact, as we point out in our Excel review, some features of the older Office modules were actually removed from this version, meaning that there are fewer (not more) hardware demands.

Installation: Overall, the Office 2008 installation procedure is both fast and easy. Microsoft has obviously learned from previous versions that a great number of calls to its support center are caused by installation problems, specifically not having sufficient base configuration to actually load and operate the software. Consequently, Office for Mac first runs a program that checks if your computer has what it takes to run the software. When it is satisfied your computer has enough RAM, hard drive space and, the aforementioned, DVD drive, the installation proceeds. Interestingly, we found the inspection process takes quite a few minutes to perform, during which our Mac was fully occupied warning us not to interrupt the process.

After this, it was clear sailing. All Office applications were loaded in the Applications folder (where they should be) and the old applications were moved into a new folder that we were able to burn onto a backup DVD-R. We liked the ability to backup the older Office applications onto a disc and then move forward with the new installation. While we suspect it may be difficult (if indeed, possible at all) to reverse the migration process, we thought it nice that Microsoft didn't destroy the old files (especially because many patches had been applied to our older Office 2004 files and we would have had to start from scratch if we had to reload the original applications from CD-ROM).

For the sake of clarity, we deal here only with the overall new features of Office, and outline new features and benefits of each module within the individual reviews devoted to Word, Excel, PowerPoint and Entourage respectively. A very positive element of the new Office for Mac is a much higher level of integration from one module to another within the Office family. As well, Office's ability to keep data "live" from one module to the next was especially useful. We saw this, for example, when we downloaded some information in Excel format and used the massaged data to create a PowerPoint presentation and a Word-based report. Even after significant changes, we found linkages between data remained, even after playing "what-if" across the modules. We thought that Microsoft's Mac Business Unit should be congratulated on this increased functionality.

Not everything is honky-dory with Office 2008 for Mac. As you'll read in our individual reviews of each product, there are some significant omissions in Office 2008. While the new Word does sport some small improvements, it also has a few minor annoyances and bugs. Excel on the other hand, has some significant problems for those who use VBA, Solver or the Data Analysis Toolpack. Some power users, therefore, might choose to delay upgrading from Office 2004 until these are worked out. Entourage is still not Outlook (and may never be) so if cross-platform equality is vital to you, you may elect to use Apple's Boot Camp and Office 2007 for Windows.

Templates galore: We also note that Word, Excel and PowerPoint – clearly the modules that received the most "rewrite" in Office 2008 – had plenty of templates. In fact, we note that in many cases, the only quickly noticeable change to each module is the flashy templates added (or at least, made far more accessible) to the three "creative" modules in Office. Unfortunately, as we'll discuss in the Entourage review, this package shows the least change and although could have benefited from the addition of templates, did not receive any.

In general, we thought most of the templates would please junior and mid-level managers within small to medium firms. You know the ones, the people that marketing types insisted on calling "knowledge workers" a few years ago. Yes, Office is a fantastic product for those who need to spend a day or two preparing a report or presentation about their divisional sales numbers. On the other hand, the contribution each template might make for a writer, correspondent or reporter would likely be minor, if at all. This is because our words are usually rewritten, polished and sent along to the Graphics Department or used in a scripting or design program such as InDesign or Quark XPress. Still, we figured we would rather have the templates than not and certainly many of them are nice without being too flashy.

Finally, a clear emphasis of the new Office for Mac has been on the interface design. All modules have been redesigned to look and feel as if they are full Mac OS X applications. The fonts, color palettes and tool bars look a lot more like Apple and a lot less like Windows. These are subtle differences but important ones to MacHeads who put a lot of emphasis into how their computers look and work.

Overall:
We liked the new Office for Mac 2008. It does what it is supposed to do without too much superfluous clutter. Although currently the only commercially available software for full "office" productivity, Microsoft knows that other companies have Office in their sights and are making real efforts to protect their customer base. Google, for example, and others such as OpenOffice.org would like nothing more than to reduce Microsoft's stranglehold on office applications but the Seattle-based powerhouse shows it knows how to use a light but firm hand when it comes to adding important upgrades to its Office software. Recommended.

End of Review
---
Have your say.
You can give us your feedback by visiting our Terms of Service page.
Buy this software.
If you wish to buy this software right now, please click here.
You can also read reviews of other Office for Mac modules:
Read other reviews.
If you wish to return to the main Reviews page, please click here.
---